Our Grand Re-Opening challenge sponsor is Bugaboo Stamps who will give our Grand Prize Winner a total of 10 Digi images, of their choice, from the Bugaboo Store!! How Generous!!! How Exciting!! How Inspirational!! Thank you so much Bugaboo!!
We also have quite a few more digi prizes from some super fantastically generous people who also wanted to help us celebrate our Grand Re-Opening!!
If you read the "How to Play" Rules you'll see that our challenges are no longer limited to only free digi images. You can now use ANY Digi Images for our challenges.
Each challenge will have an awesome Sponsor, a theme and at least one digital prize! How Exciting!!!
And the Cherries on the top of this multi-tiered Delicious Goodness are the 2 new members of our Digi Haven Design Team! Welcome Chrissy xx and Lisa! Please visit our Design Team Page to meet all our DT members!!
Ok so let's get started ... our Grand Re-Opening Challenge theme is
"Sparkles and Bling"
. You must follow our challenge rules to be eligible for our winners circle drawing so please check out our "
How to Play
" page. There will be one Grand Prize Winner who will receive the Bugaboo Prize of 10 Digital Images. The Grand Prize winner will be chosen using Random.org. There will also be a "Top 3" list chosen by the Digi Haven Design Team. For our Grand Re-Opening Celebration, the "Top Three" will also receive a Digital Prize from either
Stamp 'n Doodle
,
Mynnette Kitchen - On a Stampage
or
the Stamping Shack
. This challenge will end on Thursday, January 17th.
Our Grand Re-Opening SPONSOR is ......
Please visit the "Our Sponsors" tab to learn more about our wonderful sponsors.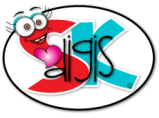 MORE CHANCES to WIN PRIZES!!. Just complete one or all of the following tasks for additional chances to win a prize:
After you enter a design in our challenge, leave a positive comment on this post before January 17th. We will choose 2 random.org winners. One will receive 3 Digi Images from Broken Box Stock and the other will win a $10 voucher to Di's Digi Store. You must enter the challenge then leave a comment :o)
Post our Digi Haven Button on your blog and your name will be placed into a random.org drawing for a $6 voucher to SKDigi's store.
There are two additional ways to win two $10 gift certificates to the Bugaboo Store: Sign up as a "Digi Lover" member/follower here at Digi Haven and follow us by email and/or "Like" us on our new
Facebook
page. There will be two chances to win two $10 gift certificates for Bugaboo. Both gift certificates are donations from the Digi Haven Design Team ... which reminds me ... of the gorgeous inspirational designs they have created just for you ....
Let's raise our glasses for a Successful Grand Re-Opening!! Cheers!!!
We can't wait to see the wonderful things YOU create using a Digital Image, Sparkles and Bling!